About us
Pontefract Academies Trust is a cross phase Multi Academy Trust comprising of eight schools, six primaries and two 11-16 secondary schools. We are a medium sized family of schools all located within Pontefract. We educate over 3,900 children and young people across the town.
Letter from the CEO
---
Introductory letter from the CEO of Pontefract Academies Trust Mr Julian Appleyard OBE
Meet our people.
Fiona Roberts
Curriculum Leader for Mathematics
Heather Howard
Y6 Teacher & Assistant Headteacher
James Parkinson
Headteacher
Tom Halliday
Curriculum Leader of Physical Education
Information for applicants.
Guidance for applicants
Applicant Checklist
Before you submit your application, we would recommend that you follow this checklist to ensure that your application has the strongest chance of success.
Many of our roles receive a high volume of applications and accurately completed applications will benefit your application.
The job description and person specification
Ensure you've read the job description and person specification. The recruitment panel will select candidates based on their evidence and detailed information of how you meet the essential requirements of the role.
Where you can, provide evidence and examples of where you have met the skills required, or have had previous experience that is relevant to the role.
Review the Trust and school website, these sites contain lots of useful information about the school and their key priorities.
Visiting the school
Many of our vacancies encourage candidates to visit the school. We believe this is essential to find out more about the role, the team you will be working with and most importantly, the children you will be supporting. Please take advantage of this invitation and arrange to visit us. First impressions really do count!
Visits can be arranged outside your usual working day, please speak to the school contact.
Application form
You must complete the online or paper format of the Pontefract Academies Trust application form.
Your supporting statement should address and evidence the selection criteria detailed. Ensure this is not longer than 2 sides of A4.
Please note CV's will not be accepted.
If you are applying for a teaching post, please be clear on the level of qualification you have and the age group you are qualified to teach.
If you are applying for a teaching post in one of our secondary schools, please complete the 'Teachers Result Form'
All information must be accurate. Any inaccurate information provided may result in future offers of employment being withdrawn.
You should also provide information for our equal opportunities monitoring. This form is downloadable with the job pack for each role. This will not be available to the recruitment panel and is for our monitoring purposes only.
Submitting your application
Online applications will be submitted to the recruitment team. You will receive an automatic confirmation email, once your application is received.
Completed applications forms may be returned in electronic format to: recruitment@patrust.org.uk. If you would prefer to submit a paper application form, please return to:
Recruitment Pontefract Academies Trust, The Barracks Business Centre, Wakefield Road, Pontefract, WF8 4HH.
Selection and appointment
Once you have submitted your application this will be reviewed by the shortlisting panel. The panel will match your skills, knowledge and experience against the criteria in the Person Specification. You will be selected for interview entirely on the contents of your application form, so please read the Job Description and Person Specification carefully before you complete you submit your application.
We shortlist posts within 10 working days of the closing date. Due to the volume of applications across the Trust we will only contact shortlisted candidates. If you have not heard from us within 4 weeks, please assume that your application has not be successful.
Interviews generally take place within 15 working days of the post closing. Some interviews will happen quicker than this. If any preparation is required, we will inform you when we invite you to interview.
We will also ask you to bring documents with you to interview, please have these available, as this supports our pre-employment checks. These documents are:
Evidence of the right to work in the UK
Evidence of identity that will satisfy DBS requirements such as a current driving licence including a photograph and/or a passport and/or a full birth certificate
Proof of current name and address (i.e. utility bill, financial statement etc.)
Where appropriate any documentation evidencing change of name
Documents confirming any educational or professional qualifications that are necessary or relevant for the post
Please note that originals of the above are necessary. Photocopies or certified copies will not be accepted.
We encourage all applicants to submit their application as soon as possible, as the Trust reserves the right to change the advertising closing date. Interviews may take place prior to the advertised closing date.
References
As part of our application process, you must provide the details of two referees. One of these referees MUST be your current or most recent employer. Your second reference can be a past employer, or any character reference provided by somebody who is not related to you.
A standard part of our recruitment process is to request references prior to interview. If you do not want your referee(s) to be contacted prior to interview, please make sure you state this in your application.
Selection
We will seek references on shortlisted candidates and may approach previous employers for information to verify particular experience or qualifications before interview. Any relevant issues arising from references will be taken up at interview.
In addition to candidates' ability to perform the duties of the post, the interview will also explore issues relating to safeguarding and promoting the welfare of children
For most posts there will be selection exercise, this could be desk-based exercise for non-teaching posts or teaching a lesson for teaching roles. Information will be provided in your invite to interview.
Candidates who require reasonable adjustments to be made to the selection process will be asked to contact the HR team to discuss their individual needs.
We will inform candidates if they have been successful at interview within 2 working days of their interview, this will generally form the verbal offer of employment. We will also contact unsuccessful candidates. Feedback is available, on request.
Employment offers
Any offer to a successful candidate will be conditional upon:
Verification of right to work in the UK
Receipt of at least two satisfactory references (if these have not already been received).
Verification of identity and essential qualifications
Satisfactory DBS Enhanced Disclosure
Verification of professional status and qualifications e.g QTS Status, NPQH (where required).
Satisfactory completion of medical fitness for employment.
Where the successful candidate has worked or been resident overseas in the previous five years, such checks and confirmations as may be required in accordance with statutory guidance.
Any verbal offers of employment are confirmed in writing by our HR team within 5 working days.
Sharing our commitment to safeguarding and child protection
Pontefract Academies Trust is committed to safeguarding and promoting the welfare of children and young people. We expect all our staff and volunteers to uphold and share this commitment.
Everyone who works within the trust and comes into contact with children (and their families) has a role to play in safeguarding children. We are committed to working with other agencies to ensure adequate arrangements are in place across the trust to identify, assess and support those children who are suffering, or likely to suffer from harm.
Candidates should be aware that all posts within the trust have a responsibility towards child protection and safeguarding the welfare of young people. Some posts will have more responsibility than others, but all applicants should be aware that when applying for a post, children's welfare is a shared responsibility of all adults.
Working with children and young people is a position of trust and brings with it responsibilities that reflect in the expectations we have of staff outside the workplace. As an employee, you will be expected to role model behaviours and maintain a level of professionalism, inside and outside the workplace. We are dedicated to ensuring that our students feel safe and secure in their learning environment.
All appointments will be subject to a satisfactory Enhanced DBS check. We also have standard pre-employment checks which are detailed below:
We only accept completed application forms; please complete all sections of the application form.
Please detail any criminal convictions, even if you believe these to be spent, they must be declared. This information is for the HR team only and will not be shared with the interview panel.
Through our selection processes, including interviews, we will ask candidates to verify information on their application form and explain any gaps in their employment or education history.
We will always seek references. We will ask for information relating to disciplinary and capability issues and wherever possible we will seek these references prior to interview.
We will ask your referees if you are suitable to work with young people, even if your current role is not working with children or young people.
We will a check to see if you are barred from working with children and young people.
We will ask for evidence of your qualifications.
For teaching posts, we will need to confirm that you are a qualified teacher.
We will need proof of identification and confirmation that you have the right to work in the UK.
Candidates should be aware that all posts in Pontefract Academies Trust involve some degree of responsibility for safeguarding children and young people, although the extent of that responsibility will vary depending on the nature of the post. Accordingly, this post is exempt from the Rehabilitation of Offenders Act 1974 and therefore all convictions, cautions and bind-overs, including those regarded as "spent" must be declared.
For posts based in our Primary settings, candidates will be asked about their suitability to work with very young children, through confirming they are not disqualified under the Childcare Act 2006. For more information please refer to: gov.uk/government/publications/disqualification-under-the-childcare-act-2006.
If you are not able to satisfy these checks, please speak to our HR team before applying.
Please refer to the latest Keeping Children Safe in Education guidance for further information (https://www.gov.uk/government/publications/keeping-children-safe-in-education–2)
How we use personal data in your employee application
In accordance with Data Protection legislation, individuals have a right to be informed about how the Trust and its schools use any personal data that is held about them. We comply with this right by providing 'privacy notices' (sometimes called 'fair processing notices') to individuals where we are processing their personal data.
This privacy notice explains how we collect, hold, process and share personal data about individuals who are applying for jobs within our Trust. This Notice may be subject to change.
Who we are
Pontefract Academies Trust is a 'Data Controller' as defined by Article 4 (7) of General Data Protection Regulations (GDPR). This means that we determine the purposes for which, and the manner in which, your personal data is processed. We have a responsibility to you and your personal data and will only collect and use this in ways which are compliant with data protection legislation.
The Pontefract Academies Trust has appointed Veritau Ltd to be its Data Protection Officer (DPO). The role of the DPO is to ensure that the Pontefract Academies Trust is compliant with GDPR and to oversee data protection procedures. Veritau's contact details are:
Schools Data Protection Officer Veritau Ltd, County Hall, Racecourse Lane, Northallerton, DL7 8AL.
Tel: 01609 53 2526
Any correspondence with the DPO must include the name of our Trust and the name of the school within our Trust if relevant.
What information we collect
The categories of information that we collect, hold, and process include the following:
Personal information (such as name, marital status, date of birth, address, national insurance number).
Recruitment information including copies of right to work documentation, references and other information included in a cover letter as part of the application process.
Qualifications and employment records, including work history, job titles working hours, training records, teacher number, and professional memberships.
Any information provided by your nominated referees or other relevant information you wish to provide us.
We will also process certain 'special category' data about our applicants including:
Race, ethnicity, sexual orientation and religious beliefs.
Disability and access requirements.
Criminal convictions and offences held in the strictest of confidence.
Why do we collect your personal data
We use this data to:
Enable us to contact you during the recruitment process.
Enable us to establish relevant experience and qualifications.
To facilitate safe recruitment, as part of our safeguarding obligations towards pupils/students.
To monitor equality of opportunity.
To ensure that appropriate access arrangements can be provided for candidates that require them.
We only collect and use personal information about you when the law allows us to. Most commonly, we process it where:
To allow us to take the necessary steps prior to potentially entering into a contract with you (such as inviting you to attend an interview for an advertised position).
To comply with legal obligations placed upon us (such as a legal obligation to check your eligibility to work in the UK).
To carry out a task in the public interest (such as to comply with the requirements of safer recruitment).
Who do we obtain your information from?
Whilst most of the information you provide to us is mandatory, some of it is provided to us on a voluntary basis. To ensure that we comply with data protection legislation, we will inform you whether you are required to provide certain school workforce information to us or if you have a choice in this.
We will not share information about job applicants with any third party without consent unless the law or our policies allow us to do so.
CCTV
Some of our schools use Closed Circuit Television (CCTV) cameras for the purposes of monitoring our premises and to support any pupil/student behavioural policies. There are visible signs showing that CCTV is in operation and images from this system are securely stored where only a limited number of authorised persons may have access to them. We may be required to disclose CCTV images to authorised third parties such as the police to assist with crime prevention or at the behest of a court order.
How long do we keep your personal data for?
Your information is stored in line with the Pontefract Academies Trust Records Management Policy and Procedures.
What rights do you have over your data?
Under GDPR you have the following rights in relation to the processing of your personal data:
To be informed about how we process your personal data. This notice fulfils this obligation;
To request access to your personal data that we hold and be provided with a copy of it. This is sometimes referred to as a 'Subject Access Request';
To request that your personal data is amended if inaccurate or incomplete;
To request that your personal data is erased where there is no compelling reason for its continued processing;
To request that the processing of your personal data is restricted; and
To object to your personal data being processed.
Contact
If you have any concerns about the way we have handled your personal data or would like any further information, then please contact our DPO on the address provided above.
If we cannot resolve your concerns, you may also complain to the Information Commissioner's Office (the Data Protection Regulator) about the way in which the Trust has handled your personal data. You can do so by contacting: First Contact Team Information Commissioner's Office, Wycliffe House, Water Lane, Wilmslow, Cheshire, SK9 5AF. casework@ico.gsi.gov.uk Telephone: 03031 231113 (local rate) or Telephone: 01625 545 745 (national rate number)
Further Information
If you would like to discuss anything in this privacy notice, please email dpo@patrust.org.uk
Our values.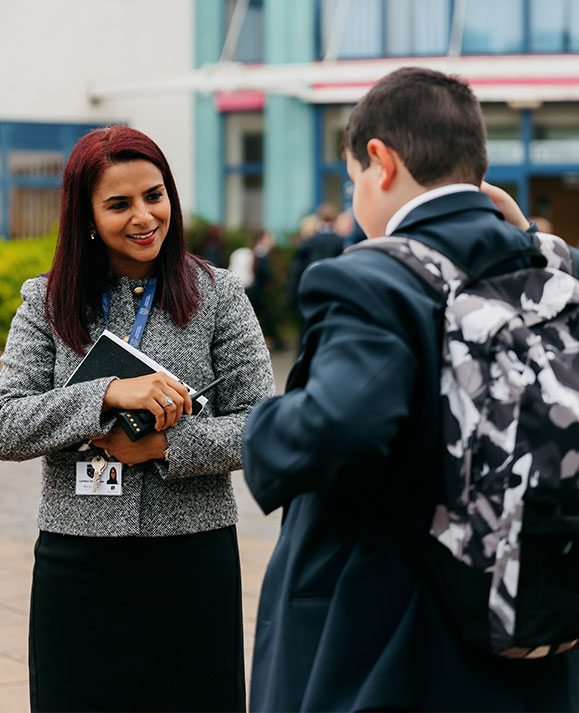 Achievement without excuses
We have an unwavering focus on achievement. This is paramount so that all of our children and young people enjoy greater life chances.
We take responsibility for ensuring that they succeed. We own our own performance and do not rest on our laurels or seek to blame others.
Our people matter
We know that our people make a difference to the lives of our 3-16-year-olds. We want to make our schools places where great teachers want to teach, lead and build a career. Investment in the recruitment, development and retention of the best people is a top priority.
We aim to provide professional work environments where our people have the support and tools to do a great job and push our children and young people to scale new heights in a safe and secure environment.
Excellence as standard
We set high standards. "Good enough" is simply not. We do not accept second best from our pupils or ourselves.
The Trust aims to be a highly reliable school improvement organisation that is disciplined in its approach to improving performance. A Trust with clear plans and, simple and precisely executed systems that not only develop and sustain excellent performance, but never stifle individual flair.
Pupils come first
Our schools are run for the benefit of children and young people, not the ease of adults. Their achievement comes first and staff in schools and the central Trust office work to this end.
The Trust aims to keep low priority tasks away from front line teachers and leaders so that they can focus explicitly on our core business of teaching and learning.
Stronger as one
We take collective responsibility for each other and the results of all of our children and young people. We enjoy sharing our success as a Trust while recognising the strengths of individuals and each school. To this end collective accountability is rooted in a "if one fails we all fail" mentality.
As a family of schools we collaborate with each other, challenge each other and share best practice. We do not let competition get in the way of our desire to get the best outcomes for all.